Technical details
HW PAV ventilators are manufactured assembling HW axial impellers with a B5 electric motor, a rounded case and a protection mesh.
Depending on the application, the impellers can be made of aluminum or plastics (PPG, PAG). The rounded case is made of plastics and its length is customizable. Electric B5 motors are chosen from top suppliers and carry all the relevant certifications.
Depending on the way the impellers are configured, the ventilator can provide either a sucking or a blowing air flow.
PAV ventilators can operate at temperatures between -20°C and +60°C, depending on the technical specifications of the motor.
Noise emissions can be taken under control through a highly customizable design of each component.
HW PAV ventilators have been tested in our AMCA 210/07 wind tunnel and comply with the requirements of the EU Energy Related Products (ErP) Directive 2015.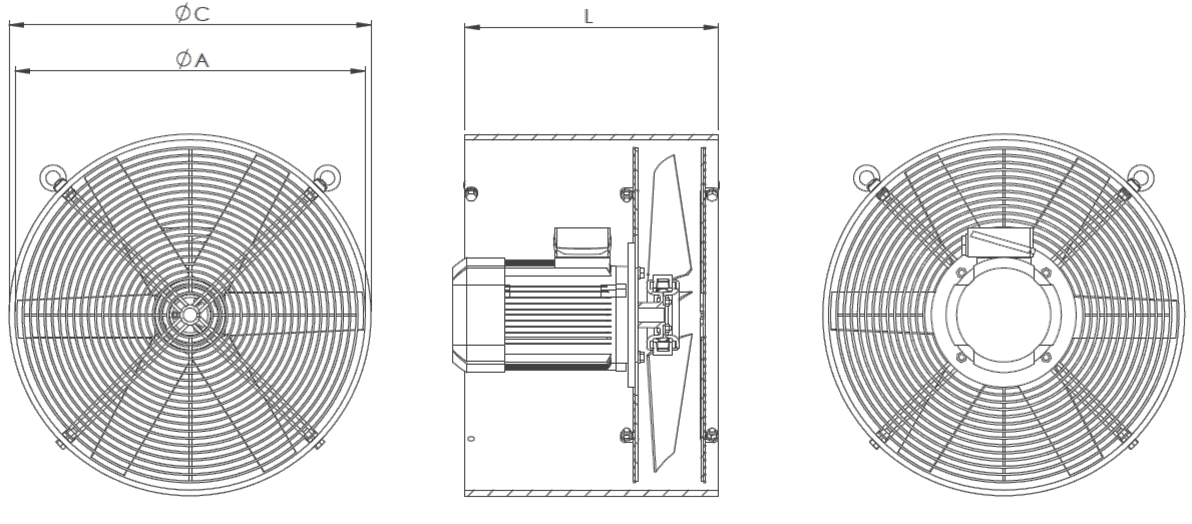 PAV



ØA
mm
ØC
mm
L
mm

Case THK
mm

315
305
315
350-600 (*)
4,9
400
387
400
350-600 (*)
6,2
500
484
500
350-600 (*)
7,8
630
610
630
350-600 (*)
9,8
(*) case lenght customizable upon request