SPECIAL POLYAMIDE BLADES FOR ATEX AND RAILWAY AVAILABLE IN OUR STOCK
SPECIAL POLYAMIDE BLADES FOR ATEX AND RAILWAY AVAILABLE IN OUR STOCK
ORDER PAX AND PAT PRODUCTS NOW AND WE'LL DELIVER BY JANUARY 2022
18/11/2021
18/11/2021
18/11/2021
/en/blog/news/special-polyamide-for-ATEX-railways
We kindly inform our customers that our PAX and PAT blades are available for quick deliveries. Do not miss the opportunity to place your order now and receive the products in January 2022 at the latest. PAX is an antistatic, self-extinguishing PA6 polyamide with 20% carbon fibers. PAX is a semiconductive and dissipative material with a surface resistivity of E102 Ohm and UL94-V0 flammability rating. PAX is the ideal material for ATEX, Oil&Gas, and explosive-risk environments. Following are the list of Hasconwing impellers whose blades can be made of PAX: TS, fixed pitch, airfoil profile axial impellers, Ø230-906 mm Q, fixed pitch, sickle profile axial impellers, Ø230-750 mm TM, variable pitch, airfoil profile axial impellers, Ø300-1270 mm PAT is a special glass reinforced polyamide, specifically thought for railway applications. PAT fire behavior has been tested by third party laboratories. PAT complies with the requirements of UNI EN 45545-2:2015 Railway applications - Fire protection on railway vehicles - Part 2: Requirements for fire behavior of materials and components for hazard levels HL1 – HL2 – HL3 for requirement sets R22 and R23, and with NF F16-101/102 Fire test to railway component. PAT can be utilized to produce the blades of the following Hasconwing impellers: TS, fixed pitch, airfoil profile axial impellers, Ø230-906 mm Q, fixed pitch, sickle profile axial impellers, Ø230-750 mm TM, variable pitch, airfoil profile axial impellers, Ø300-1270 mm
HW Ventilation marketing dept.
HW Ventilation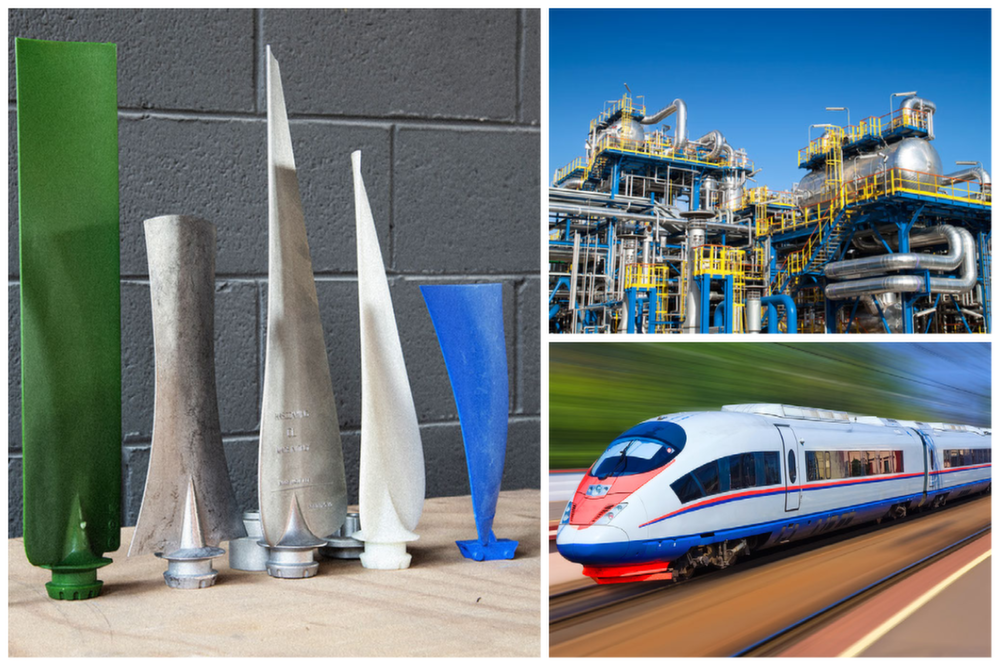 ORDER PAX AND PAT PRODUCTS NOW AND WE'LL DELIVER BY JANUARY 2022
---
We kindly inform our customers that our PAX and PAT blades are available for quick deliveries. Do not miss the opportunity to place your order now and receive the products in January 2022 at the latest.
PAX is an antistatic, self-extinguishing PA6 polyamide with 20% carbon fibers.
PAX is a semiconductive and dissipative material with a surface resistivity of E102 Ohm and UL94-V0 flammability rating.
PAX is the ideal material for ATEX, Oil&Gas, and explosive-risk environments.
Following are the list of Hasconwing impellers whose blades can be made of PAX:
TS, fixed pitch, airfoil profile axial impellers, Ø230-906 mm
Q, fixed pitch, sickle profile axial impellers, Ø230-750 mm
TM, variable pitch, airfoil profile axial impellers, Ø300-1270 mm
PAT is a special glass reinforced polyamide, specifically thought for railway applications.
PAT fire behavior has been tested by third party laboratories. PAT complies with the requirements of UNI EN 45545-2:2015 Railway applications - Fire protection on railway vehicles - Part 2: Requirements for fire behavior of materials and components for hazard levels HL1 – HL2 – HL3 for requirement sets R22 and R23, and with NF F16-101/102 Fire test to railway component.
PAT can be utilized to produce the blades of the following Hasconwing impellers:
TS, fixed pitch, airfoil profile axial impellers, Ø230-906 mm
Q, fixed pitch, sickle profile axial impellers, Ø230-750 mm
TM, variable pitch, airfoil profile axial impellers, Ø300-1270 mm