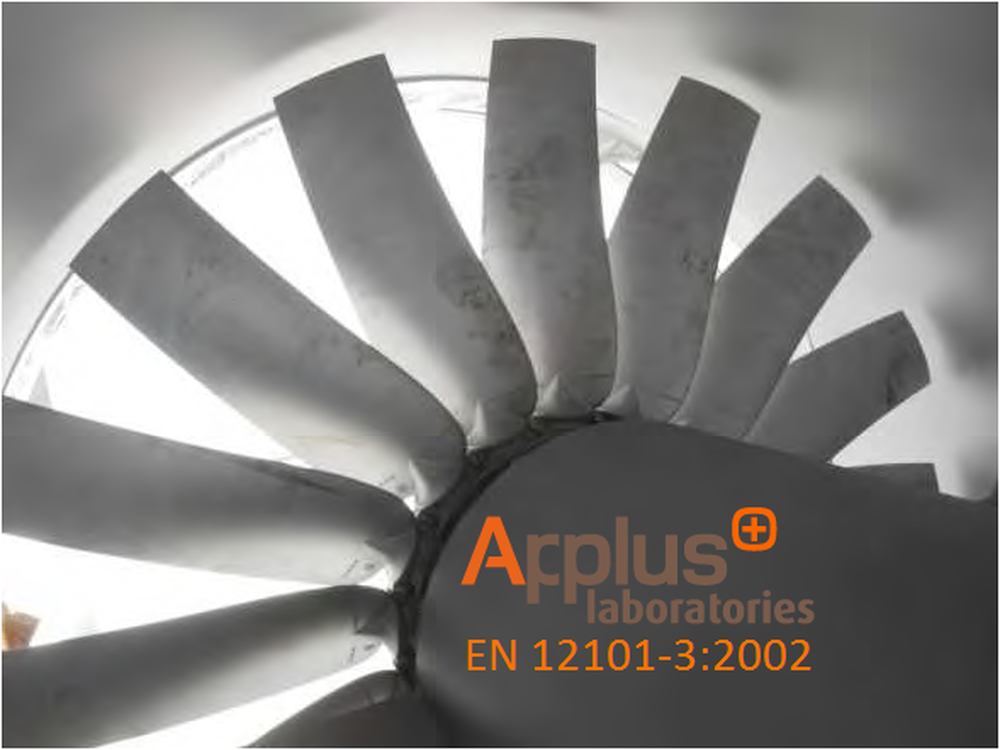 News 03/11/2014
HW Ventilation is glad to announce that C-ALU aluminum fan performance characteristics at high temperatures have been successfully tested and confirmed by Applus+, an independent 3rd party accredited laboratory.
The fan chosen for the test – a 16-blade diameter 1090mm CL-ALU – has been subjected to the conditions indicated in the European standards UNE EN 12101-3:2002 and UNE EN 12101-3:2002/AC:2006 "Specifications for powered smoke and heat exhaust ventilators", with the purpose of determining the performance of the blades during the test at a temperature of 200°C for two hours, and subsequently at 300°C for one hour.
TEST SETUP AND RESULTS
The fan has been coupled with a 4 poles, 11 kW electric motor and has been working at 400 V, 50 Hz, 2.75 kW and 1000 rpm during the entire test. The fan has been tested with the inlet and outlet airflow in horizontal direction.
Given the results of the test, Applus+ Laboratories could conclude that the blades of C-ALU fan complied with the European standard UNE EN 12101-3:2002 and UNE EN 12101-3:2002/AC:2006, having maintained their performance characteristics at 200°C for 2 hours, and 300°C for 1 hour!

For more info about C-ALU fans, please visit http://goo.gl/T6aLNt
For more details about the test report, please contact us at info@hwventilation.it
-------------------------------------------------------------------------------------------------------------------
About HW Ventilation
HW Ventilation is a leading company in the field of ventilation and air movement systems. Famous Hasconwing axial fans, owned, produced and distributed by HW Ventilation, are designed to meet the needs of a wide range of industries. Thanks to its extensive experience in air movement topics, HW Ventilation provides its customers a full range of advisory and engineering services, which include the design of new products, the performance testing of products and prototypes, the design and rollout of wind tunnels. Products and services by HW Ventilation are totally made in Italy, and are exported worldwide with very short delivery time. More information is available at www.hwventilation.it.
About Applus+ Laboratories
Applus+ is a global leader in testing, inspection and certification. The company provides solutions for clients in all industries in order to ensure that their assets and products comply with regulations and environmental regulations, quality, health and safety. Applus+ achieved a turnover of 1,470 million euros in 2012, employs 18,000 people and operates in 60 countries across 5 continents. The company is part of The Carlyle Group's portfolio since 2007.